Connect with this business

Unique Mother's Day Gift Ideas
Running out of time to find that perfect Mother's Day gift? Give her something truly unique!
Show mom how special she is with a gift that allows her to recreate a mini relaxing spa experience at home. Scandle Skin Renewing Kit contains 1 Dead Sea Salt Soak and Scrub and 1 4oz Travel Scandle Candle in coordinating fragrances. Our specially formulated multifunctional 2 in 1 Dead Sea Salt Soak & Scrub can be used as a bath or foot soak, as a gentle exfoliate to renew skin in the shower, or combine them with the soothing oil from the Scandle Body Candle to transform the salts into a gentle warm exfoliating salt scrub for skin. Comes packaged in reusable Sinamay hand-made twine tote made from plant fibers.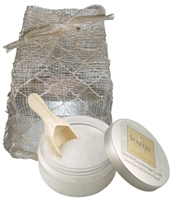 About Scandle LLC:
Made from 100% natural ingredients, including soy butter, Shea butter, jojoba, vitamin E, & essential oils; Scandle Body Candles burn at 2 degrees above body temperature to produce a soothing and healthy body oil that can be used to enhance the health of the skin, while simultaneously providing fragrance and ambiance to any setting. The Scandle features refillable/reusable canisters and packaging made from recycled materials.
Posted by Scandle Candle on Apr 28, 2:41 PM •
Permalink
Braggit Tags:
Braggit Comments
CHAT LIVE with Scandle Candle
A Candle Never Felt So Good
Location: Lewisville, Texas, United States
Industry: Health, Beauty and Personal Care
Braggit & Company Images